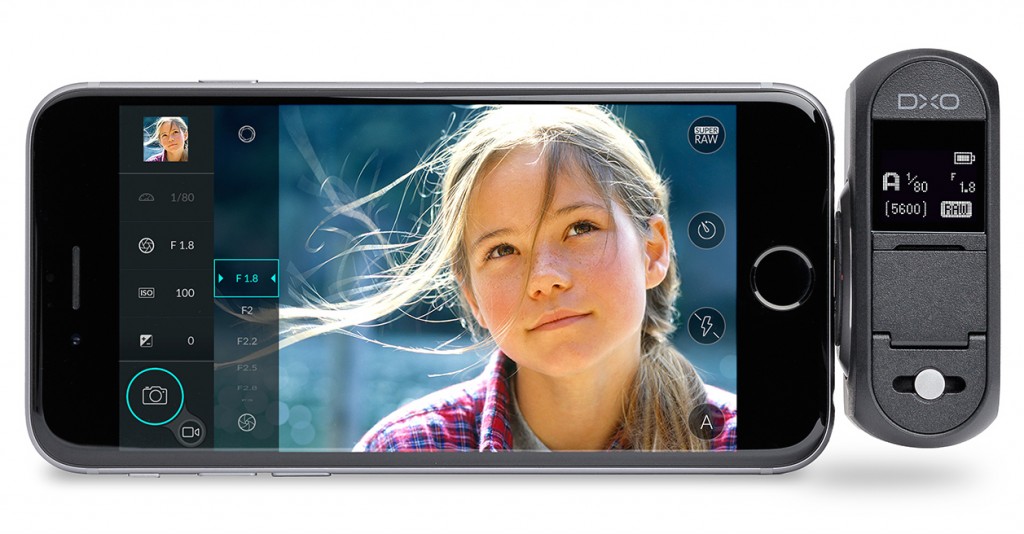 The DxO One, a $599 palm-sized camera that plugs into an iPhone via its Lightning port, illustrates just how far smartphones have gone in taking over photography.
Many cameras now connect to smartphones over Wi-Fi to transfer photos for online posting. But in that case, the camera is still the main gadget, with the phone playing a supporting role. The 20-megapixel DxO One (available for pre-order) starts from the premise that the smartphone is the central device, and the camera is just an add-on – albeit one that costs about as much as the phone.
Perhaps it's easier for DxO to recognize that trend because it doesn't have a camera business to defend against smartphones. DxO has, until today, been solely a software company making advanced programs for editing images. The aluminum-clad DxO One, the company told me, is for photographers who like shooting with smartphones but want to up their game a bit, especially in low light. The 3.8-ounce camera is also a gateway drug to DxO's software, which comes bundled with the camera and make play a role in the device's high price.
Big Sensor and Lens
What does the DxO One offer that an iPhone camera doesn't? Manly a big image sensor. Its 1-inch, 20.2MP chip is nearly seven times the size of the 8MP sensor in the iPhone 5 and iPhone 6 cameras it's compatible with (as well as recent iPads and iPad Minis). DxO hasn't announced plans for an Android-compatible model, but the company told me that a variety of additional devices are in the works.
DxO promises to bring DSLR quality images to the iPhone. That's a bit of an exaggeration, but not by much. The camera's sensor is the same one found in the Sony RX100 III, an $800 advanced pocket shooter that comes close to DSLR quality. I found that in my review for Tom's Guide, in which I compared the RX100 III to Sony's much-larger a6000 camera — a $700 mirrorless model that matches and in some ways beats DSLRs of the same price.
The larger chip enables the DxO One to capture better low-light images, the company says. The camera's SuperRAW mode captures four photos in rapid succession and compares them in order to filter out noise (graininess) in low light. The sensor is paired with a large lens with an adjustable aperture, from f/1.8 to f/11 to control depth of field (ranging from shallow to deep focus).
The DxO One hangs improbably, but actually quite firmly, from its tiny lightning plug that fits into the bottom of Apple's mobile devices. The connector swivels so you can tilt the iPhone 60 degrees up or down for framing shots at different angles. The free iPhone app allows full control of camera settings, including aperture, shutter speed (1/8000 to 15 seconds) and light sensitivity (up to ISO 51,200).
Shortcomings
But there are two important features the DxO One leaves out: optical zoom and advanced autofocus. Even a $100 point-and-shoot offers at least a 3X zoom lens, whereas the One's lens is fixed at a slightly wide 32mm (equivalent on a full-frame camera). That's a good angle for most photography, and about what the iPhone offers. But the lack of optical zoom is the one weak point in smartphone cameras and the most recognizable benefit the DxO One could have offered. Although that could come at a price. Sony offers its own add-ons called Lens-Style cameras in the form of a zoom lens and sensor combination that hangs awkwardly off the back of a smartphone.
The other shortcoming is autofocus. The One provides only point-and-shoot style contrast detection AF, whereas the iPhone 6 and 6 Plus offer DSLR-style phase detection (what Apple calls focus pixels) that allows them to lock focus nearly instantaneously. Using the same 1-inch sensor, Sony's RX100 III also lacks the better AF technology — and that deficiency was noticeable in my tests of Sony's camera while trying to capture action shots by day or anything in low light. With a smaller, simpler lens, the DxO One may be able to focus faster than Sony's camera, but not necessarily faster than the iPhone's built-in shooter.
Video is also a bit limited, topping out at 1080p resolution at 30 frames per second and 720p at 120 fps for slow-motion playback. The iPhone can record at 60fps for smoother 1080p resolution and goes up to 240fps (at 720p) for even slower slow-mo.
Inevitably Niche
The DxO One will likely be a niche product. It's too little for photographers who would use only a DSLR or large mirrorless camera for any serious shooting, and too much for the majority of people perfectly happy shooting with their smartphones. The latter includes many "serious" photographers when they aren't carrying their heavy gear. And while the DxO One is a lot smaller than a DSLR, it's still an extra piece of kit.
That said, the DxO One could still be a success for what it sets out to do. Given the dominance of smartphone cameras in photography, any additional piece of gear to carry will inevitably appeal only to a niche audience.