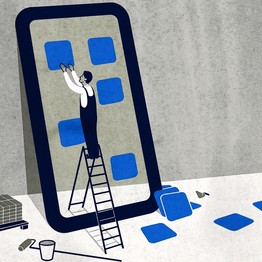 [Wall Street Journal] We love our iPhones and Androids. And "we" doesn't just mean tech geeks. Virtually all Americans (kids too) have mobile phones. And 40 percent of them have smartphones. That number keeps growing—fast. And tablets (read: iPads) are multiplying like bunnies. But there's a problem for gadget lovers: We're not very original. It's like everyone wearing the same Gap khakis, except we can at least get those items in a size that fits us.
Smartphones and tablets are, for the most part, one-size-fits-all. We can tweak them a little by downloading apps such as Facebook and Angry Birds (like everyone else), but we're often content with the same main programs that we use the most frequently—like the web browser, calendar and keyboard—even if we don't love them. The truth is, although many of us don't, you can actually customize these programs. And there are good reasons to do so—from texting more efficiently to faster web surfing. New versions of the Apple iOS and Android software are coming soon, but there are a lot of improvements you can make to your current device.
So after years of wearing the same smartphone khakis and shirt, I decided to do a little makeover. (Cue changing-room montage!) Here are the apps that will make your smart-devices feel like they were tailor-made for you.
SURF BETTER
The Tools: Skyfire and Opera Mini
Navigating the Web on tiny screens can be maddening, as is pretending that an iPad is a laptop replacement. (It's really not, no matter what productivity apps you download or funky keyboard cases you attach to it.) When Apple rolls out iOS 5 next month, the new software should help make things a little more multitasking-friendly. On the iPad, the Safari browser will have tabs to easily toggle between multiple web pages, and it will also save pages to view later or tweet about now.
But it can't send them to Facebook or other social sites. Nor can it play Web video in the popular Flash format found on many TV networks' websites. For that, we have Skyfire (free, skyfire.com; available for iPhone, iPad and Android.) One of this browser's best Safari-beating features is converting Flash videos to a format that plays on iPhones and iPads. And it's a massive improvement over Android's downright primitive browser. Opera Mini (free, opera.com; available for iPhone, iPad, Android, Windows Mobile and BlackBerry) is a good runner up—especially for smartphones. It's super fast even on sluggish cell connections. And its minimalist interface has bigger buttons for bigger fingers.
PLAN LIKE A PRO
The Tool: Pocket Informant
iOS 5 will bring some nice improvements, such as a to-do app that lets you specify a location for items—a reminder goes off when you approach that location. But Pocket Informant (from $10, webis.net; available for iPhone, iPad, Android and BlackBerry) has some of its own tricks, such as showing a calendar appointment on a map, mailing it off as an invite or placing it on your to-do list. Rationalizing procrastinators can even specify that they have completed a percentage of an unfinished task.
The app has a beautiful design that's insanely customizable (especially in the "HD" iPad version). Color-coding fanatics can change just about every hue or leave it in the gorgeous default style. In place of Apple's free iCloud Web service, which syncs data like appointments and to-do items across Apple's devices, the Informant apps use the free Google Calendar or Toodledo services to sync across Apple, Android and BlackBerry products. This app is worth it, even at the sizable prices.
TEXT LIKE A TEEN
The Tools: GroupMe and textPlus
Kids may have the fastest fingers, but everyone is texting ever more. Part of the reason we type so much is that we have to send separate messages to each person. Several apps, instead, let you create groups of people who all see the same conversation—even if you're the only one with the app.
GroupMe (free, groupme.com; available for iPhone, Android, BlackBerry and Windows Phone 7) and textPlus (free with ads or $3 per year, textplus.com; available for iPhone, iPad and Android) each have their strong points. Tap a button on GroupMe, and you're suddenly on a conference call with up to 25 people. (Yes, actual talking! With real live humans!) And it tracks everyone's location on a map (if they allow it)—helpful during concerts, festivals or any family outing. One standout for textPlus is its iPad app. If you're home and feeling chatty, you can spread out with a roomy screen instead of pecking at tiny phone buttons. On Android, textPlus can also control the standard texting service, so you can use just one app. Unlike GroupMe, textPlus does not support phone calls—at least not yet.
TAKE NOTE
The Tools: Simplenote, SoundNote and Note Everything
Apple's notepad app is just as dull-looking in iOS 5, but it dazzles with iCloud syncing between iPads and newer iPhones. If you have an older iPhone or any phone with Android, which doesn't have a notepad app, you can get the same effect with Simplenote (free with ads, simplenoteapp.com; available for iPhone and iPad) and AndroNoter (free, andronoter.com) a third-party Simplenote Android client. Simplenote has minimal ads, but they are preferable to the $20 annual fee (which adds a few other features as well).
Note apps can do so much more than sync. A brilliant option is SoundNote ($5, soundnote.com; available for iPad), which records audio while you type. Miss something in a meeting? Tap whatever you managed to scribble and hear what people said at the time. That's easily worth the five bucks. On Android, the Note Everything app (free, softxperience.mobi) lets you type, draw, dictate and even scan in barcodes.
TYPE WITH EASE
The Tool: SwiftKey X
Apple's iOS 5 will make iPad typists happier. Instead of stretching their thumbs across the screen, they can set the virtual keyboard to split in two, with one half at each side of the screen, closer to each thumb.
It's very different on Android, where apps are bountiful and simple. Install one, set it as your main keyboard and it pops up automatically whenever you type. Many replacements are better than the stock keyboard, but I found typing easiest with SwiftKey X ($4, swiftkey.net), a program that really wants to know you. It can connect to Facebook, Twitter and your email and text apps to better learn how you type as well as the correct spellings of your friends' and associates' names.
SHARE THE SHOTS
The Tools: Instagram and picplz
Sharing makes (almost) any photo a good one, and Instagram (Free, instagr.am; available on iPhone) is the best app for this. It lets you share your photos on Facebook, Flickr or Twitter, but Instagram is itself a social network, with members who can friend and follow each other, and comment on and like photos as they would on Facebook. Instagram provides more than two-dozen filters that apply effects to a photo such as "Lomo-fi" and "1977" transforming measly cameraphone pics into genuine artful expressions.
Instagram's big flaw is that it's only available for iPhones, at least for now. But folks with Android phones (and iPhones) can get much of the same from picplz (free, picplz.com), another social sharing app with arty filters (though not quite as good). It comes in a close second—actually first, if you have Android.
—Mr. Captain is a freelance writer and has worked as a consumer products consultant. (He did not consult for any of the companies mentioned in this article.)
Illustration by Francesco Bongiorni for The Wall Street Journal