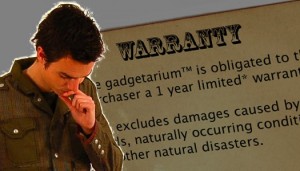 [Swtiched. Read Original]
Burning question: Should I pay extra for an extended warranty?
The short answer: No.
The much-longer answer: Probably not, though it depends on what you buy, what the plan covers, and how techie you are.
We do recommend warranties for theft-and-loss-prone handheld devices like cell phones, but it's likely that your laptop, TV or cell phone won't bite the dust in that narrow span of time between the end of the manufacturer's coverage and the end of the extended warranty. In fact, tech products don't break as often as we fear they will. And when things fall apart, they do so promptly. "If you get a lemon, things tend to go wrong in the first year when the product's under warranty," says David Carnoy, the executive editor of c|net.
But service plans or other insurance policies might be worthwhile if they offer something beyond the standard warranty, such as better tech support or protection against theft and accidents.
Read on for our 10 tips on protecting both your gadgets and your bank account.