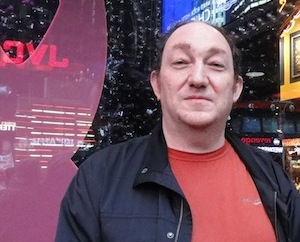 Today, as Occupy Wall Street occupied Times Square, I bumped into several folks from abroad (Europe and South America) and got their opinions.
First, I saw the sign "French frogs are with you," but I couldn't make it across the crowd to find out more. I had closer conversations after that.
Outside the Hard Rock, I saw a man standing against the wall who didn't look at all like he was part of the demo. I was sorta wrong. Adrian Stoppelman is a radio comic (who knew?) from Buenos Aires who just happened to be in town. So what did he think of the US-style demo?
"We are very used to this," he said. "in fact we are a model for many countries. We survived the 2000 crisis."
Bucking what most people have said about OWS, Stoppelman called this "very organized." in Argentina, he said. People just took to the streets spontaneously. No social media required (not that he dislikes social media).
The only downside he saw to the Times Square protests, though, was that he had tickets for a music show on the other side of the street and he wasn't sure he'd make it.
Then I met Anna Gonzalez and Anna Gonzalez – a mother-daughter team. Young Anna had just moved to New York from protest hotbed Madrid.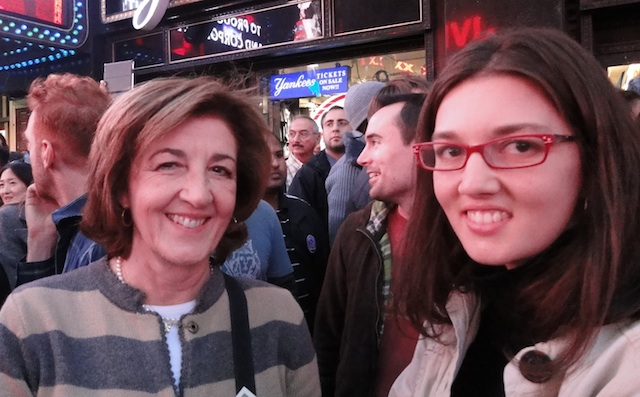 "I'm very happy, most of all that there are people of different ages, different types here," said Anna the Younger. "There are all kinds of people here."
So how does it compare? "In Madrid, we are used to going to demonstrations…and we think that in the U.S. you don't have these kinds of movements."
Momma Anna, speaking through her translating daughter ( my Spanish is abysmal) said she came from Madrid to see this (but also her daughter, I suspect).
She also was impressed at how things were changing in the US. "When I came here 15 years ago, I had lunch at the Plaza," Anna said, via Anna. Now, I'm here. So that is a symbol of how things have changed.